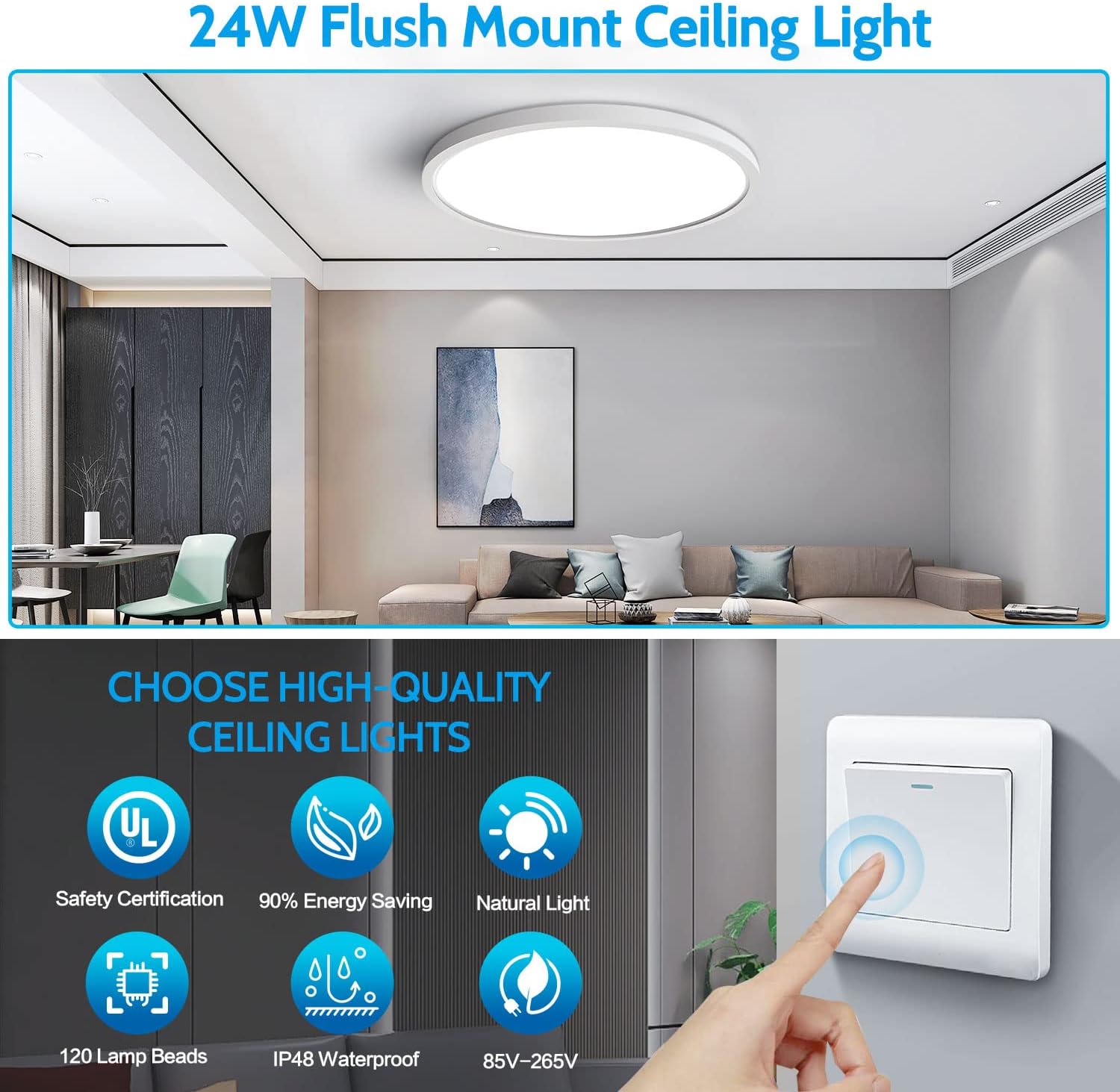 9" 24w Daylight White Ceiling Lights (2 pack)
---
【safety and long lifespan】The 2022 flush mount ceiling light have passed the UL safety certification for American family appliances. The shell insulation flame retardant material and the lamp body short-circuit automatic power-off technology make ceiling light unnecessary to connect the ground wire. After 3 years of use, The appearance of the ceiling lamp is still simple and beautiful. you will be amazed at the flush mount ceiling light performance.
【Quiet and ultra-thin】Tanbaby flush mount ceiling light has an additional stable voltage chip inside the 0.9 In thickness light body. You can install Tanbaby ceiling lights in the hallway, kitchen, and other scenes to avoid the embarrassment of your family and friends hearing sounds when they enter the door. The ultra-thin and simple.
【Quick response and natural light】When you enter the door and press the flush mount ceiling light switch, it only takes 0.001s to light up, and the response is fast. The white light illuminates the whole bedroom, you can read and work freely under the white light, and the soft natural light will soothe your eyes and help you to finish your work easily.
【Super bright and energy saving 85%】The new led light-emitting chip and side-emitting technology can have a brightness of 24000lm [Equivalent to 4 LED bulbs] even in a 9-inch lamp body. After a 24-hour work test, flush mount ceiling light saves at least 2 kWh of electricity compared to other ceiling lamps and saves 90% of the electricity consumption compared to traditional LED bulbs.
【Easy to install】First, connect the two wires, then punch the ceiling light socket to fix it, and finally screw the led flush mount ceiling light into the led ceiling light socket. In order to prevent the ceiling light from falling off after installation, the ring and the ceiling light are reinforced. Please align the lamp holder and the light buckle when installing.
This product has no reviews yet.